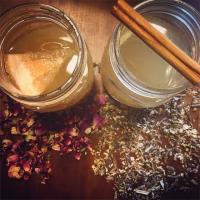 Alaska Probiotics
Contact: Kaila Buerger
Address: Po box 210846 Auke bay, Ak, 99821
Email Address: akprobiotics@gmail.com
Phone: 907-957-1894
About Us
Alaska Probiotics was born and raised in Juneau, Alaska. The purity of the rainforest and diversity of the Southeast Alaskan climate gives way to lush ecologies of edible, medicinal plants. Our products utilize the delicious, healthy, and sustainable resources of our homeland so that you can experience the wild taste of Alaska kombucha, and improve your health. Probiotics can easily be consumed, and health immensely improved.

Fermented foods and beverages are high in probiotic numbers and diversity. Incorporating these live foods into your diet increases your probiotic population and improves your health:
Practices
Sustainability:
All local plants and herbs that are harvested and utilized from Southeast Alaska. We compost and recycle!

Fair-Trade:
Teas ~ herbs ~ spices

Organic:
Alaska Probiotics utilizes all organic ingredients for global health.