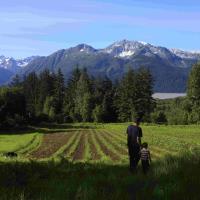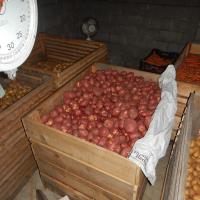 Sunnyside Farms of Haines
Contact: Scott and Valina Hansen family
Address: HC60 Box 2100 Haines, AK, 99827
Email Address: svhansen@aptalaska.net
Phone: 907-766-3538
About Us
Sunnyside Farms of Haines currently manages 2.5 acres of the historic Charlie Anway farm in Haines. In 2019 we are adding 1.5 acres in a little drier climate. We grow June-bearing strawberries, two types of potatoes, carrots, greens, weeds, and other seasonal crops. Our goal is to be a significant food producer of wholesome food for this community and others. We believe that people of all ages benefit from agricultural agility and acumen. When we better understand this world, we better understand its maker. We also have a vision to encourage others develop their own food sources.
Practices
Grown with certified Alaska potato seed.
Organic fertilizer only
Manual cultivation - no chemicals used on the field, no herbicides.
Plastic mulch used to limit weeding needs for strawberries and protect from frost.
All practices guided by exceptionalism, kindness, maturity, and excellence.