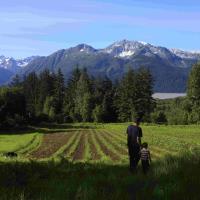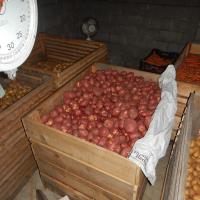 Sunnyside Farms of Haines
Contact: Scott and Valina Hansen family
Address: HC60 Box 2100 Haines, AK, 99827
Email Address: svhansen@aptalaska.net
Phone: 907-766-3538
About Us
Sunnyside Farms of Haines is a family farm managing two acres of the historic Charlie Anway farm in Haines. We manage one acre of land in cooperation with Chilkat Valley Farms, a Christian community on the road system in Haines. In 2021 we began developing a new 5-12 acre field in Haines' Chilkat River valley. We utilize only organic fertilizer and no chemicals, from starts through to harvest. We grow June-bearing strawberries, two types of potatoes, carrots, beets, various greens, brassicas, summer and winter squash, and other seasonal crops. We grow Music and Chesnook garlic varieties. Our goal is to be a significant food producer of wholesome field crops for people to eat in Southeast Alaska. We believe that communities and people of all ages benefit from local food sources and understanding agricultural life. When we better understand this world, we better understand its maker.
Practices
We started with certified Alaska potato seed and are on generation eight for 2021.
We use organic fertilizer only.
Manual cultivation - no chemicals used on the field, no herbicides.
Biodegradable plastic mulch is used to limit weeding needs where applicable.
The more ingenuity when planting, cultivating, harvesting, processing, and storage, the better.