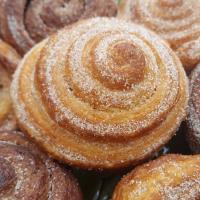 Cinnamon Roll Croissants
Bake at home!
This item is not presently for sale, please check back when ordering is open.
These delightful cinnamon sugar swirls are best hot out of the oven, so it is a good thing you can do just that!

Ingredients: White Flour, Butter, Whole Milk, Filtered Water, Sugar, Brown Sugar, Cinnamon, Yeast, Sea Salt.

This product is made with equipment which also process wheat, dairy, peanuts and tree nuts.
You must be logged in to confirm your subscription
Login