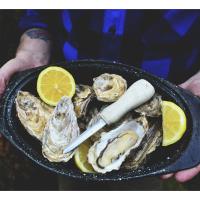 Tommaso Shellfish
Contact: James Greeley
Address: P.O. Box 1096 Craig, AK, 99921
Email Address: contact@tommasoshellfish.com
Phone: 907-846-5345
About Us
Tommaso Shellfish is a small family owned and operated aquatic farm, that handles and harvests each oyster by hand. Our farm is nestled in the crisp, cool waters of Sea Otter Sound, located near Prince of Wales Island, Alaska. We specialize in growing Pacific Oysters. These oysters reflect the pure flavors of Southeast Alaska's beautiful coastal landscape.

Mmmm... these plump, creamy, buttery bivalves are mild and slightly sweet with a hint of salt. They are perfect for any raw, broiled, deep fried, smoked or grilled delicacy of your choosing. Anyway you shuck 'em, these oysters can be prepared for anything.

Tommaso Shellfish oysters are shipped alive and fresh and grow to a variety of sizes.